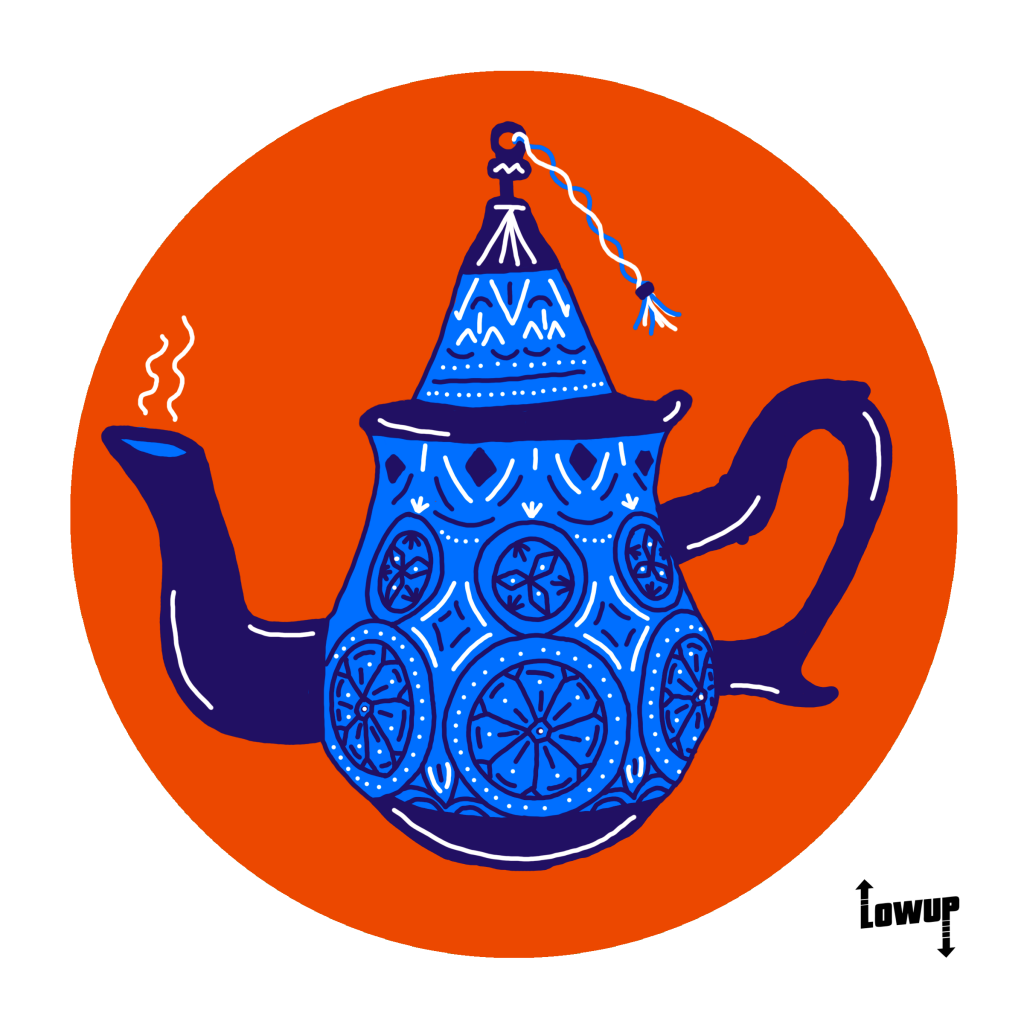 1. Ahwach Riddim
2. Taktoka
3. Daâwa
4. Bsahtek
Buy:  Bandcamp – iTunes – Junodownload – Beatport – Traxsource
Listen : Soundcloud – Spotify – Deezer – Google Play
Cover by  Tim Colmant
Mastering by Allmostt
Supported by Acid Arab, Cairo Liberation Front, DJ Haram, Maga Bo, Douster, Miki Gold, Chief Boima, DJ Rupture, Dago Donato, DJ Tuco, Ivan Diaz, Dave Luxe, Dirty Fingers, …
Superhero by day, producer/dj by night Gan Gah hits us hard again with his second EP for Lowup records. With a relentless energy he presents a set of original material of Moroccan sonorities perfectly framed within an actual club context. His aim is simple achieve trance & frenzy on the global dancefloors, he won't rest until the universe is conquered.
After a first successful release Souktronics on Lowup, he now presents his second EP Chaâbitronics.
Ahwach Riddim, Ahwach refers to the music of the berber villages in the Atlas mountains and integrates folkloric elements of berber music into a smooth running UK bass riddim, perfectly setting the tone for the rest of the EP.
Taktoka, is a tribute to the leader of the fans of Agadir's soccer team HUSA, blending chaâbi elements with a ternary rhythm achieving a trance like state topped off by a haunting melody.
Daâwa, literally meaning mess and things do get messy & wild. With elements of the Northern regions of Morocco – think – a Raggada rhythm with loads of Darbouka and a wobbly bassline pushing the listener further into an ascending trance. Kind of like a meeting between the Chemical Brothers & Omar Souleyman getting out of control.
Last up is Bsahtek, the most adventurous track of the four, achieving a perfect balance between a diverse set of modern club aesthetics and more traditional elements, often used during the celebration of marriages, it leaves you in a state of perfect bliss & harmony.